Join Microsoft and Learning Tree International for this on-demand webinar on how Learning Tree & Microsoft can help you get a sought-after certification in Security Compliance and Identity. We'll discuss the 4 different SCI Certifications, talk about the different resources available to you, and how this certification can help you or your organization.
You Will Learn:
How the Microsoft Security Compliance and Identity Certifications and Learning Tree courses map to your job role.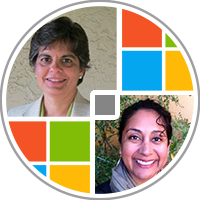 Presented by Cecilia Perez-Benitoa and Gita Sharma
Cecilia Perez-Benitoa is a senior content developer of Worldwide Learning at Microsoft. She has worked at Microsoft for the past 8 years, including roles under the Services University for the last 5 years, focused on content development in area of Security and Modern Workplace. Gita Sharma is a senior business strategy manager and is the go-to-market lead for Security, Compliance, and Identity (SCI) certifications and training offerings within the Worldwide Learning organization at Microsoft. In this capacity, Gita partners across product marketing and technical content teams to drive awareness and consumption of learning content across the Microsoft ecosystem. Gita has been at Microsoft for five years in a variety of content strategy and product management roles.