Join us for this fascinating exploration and webinar, "Advanced Techniques and Applications in Generative AI," in which we introduce you to the forward-thinking realm of Generative AI and how it can affect your daily job duties.
We will explore its diverse real world applications in education, health care, government, finance and consulting. We'll also shed light on the advantages and challenges in each sector. Discover common insights that transcend industries. Delve into ethical considerations, and peek into the future trends of Generative AI across sectors. Do not miss this opportunity to expand your horizons (and knowledge) of AI innovation.
[Webinar ID# 5326]
Webinar Registration Form
Complete and submit the form below to register for the webinar.
Advanced Techniques and Applications in Generative AI Webinar FAQs
Professionals in Education
Healthcare Professionals
Government Officials
Financial Analysts
Consultants
Data Scientists
Machine Learning Engineers
AI Practitioners
Business Leaders
Decision-Makers
Executives
Managers
Academics
Researchers in AI
Ethics and Compliance Professionals
Comprehensive Understanding: Gain a deep understanding of Generative AI, from its basics to practical applications in various industries.
Ethical Awareness: Explore the ethical considerations specific to Generative AI and how to ensure responsible use in your organisation or field.
Future Trends: Stay ahead of the curve by learning about emerging trends and innovations in Generative AI that will shape the future of technology and business.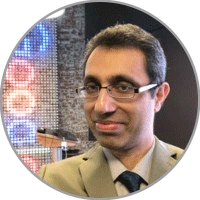 Imran Ahmad
Big Data Analytics, Cloud computing, and enterprise systems have been a passion for Imran for the last many years. He has more than 15 years of experience of designing software architectures, conducting research and IT services. As part of his PhD research, he has developed a Linear Programming based algorithm called ATSRA that can be used to optimally process information for Big Data.
Imran is currently working with the Canadian Immigration Department to develop a predictive analytics model that can automate the Canadian immigration and Visa processes. He has designed and implemented a Hadoop cluster for data processing and currently developing state-of-the-art algorithms and techniques to develop these models.
He has participated in different IT conferences in various countries and has conducted various presentations. In 2008, He has also taught various IT courses at Carleton University.