2022-08-05
The best businesses and leaders of today understand the game has changed. Businesses that want to survive today and win tomorrow are digitally transforming themselves. Still, just as importantly, they are actively ensuring they develop leaders who can drive strategic initiatives and navigate increasing complexity and change. Great technical leaders now need not only a depth of technical expertise but also the capacity to develop and cultivate key leadership skills across three domains: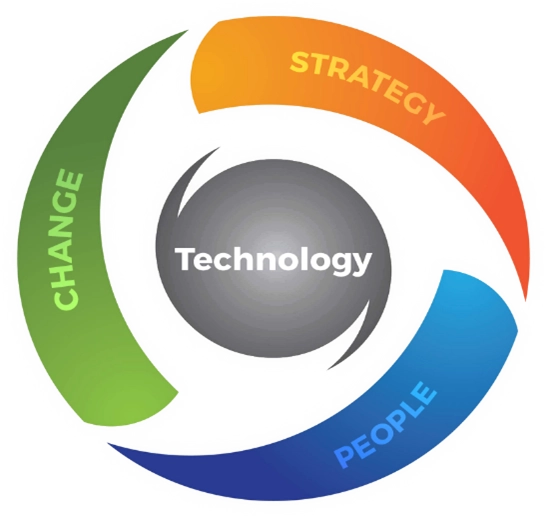 • Strategy: Drive strategic results
• Change: Lead transformational change
• People: Inspire and elevate the performance of others
Until recently, the game was played differently. Strategy was a static document that covered multiple years, was highly structured, and was developed by executives using an orderly and disciplined approach. Change within organizations – if it was tolerated at all – was a rare, episodic, and well-defined event, usually directed by a top-down initiative that may or may not have had any connection to an element within the strategy. People were arranged in multi-layered, hierarchical structures that made it easy for managers to direct their work, which was highly organized and repeatable since change was a rare occurrence.
These three domains represent where leaders – at every level – are now spending much of their time as they work to drive organizational success in the face of unrelenting uncertainty, volatility, ambiguity, and complexity.
"Leaders need to be adaptable, nimble, and flexible, recognizing that the work to be done is less definable and more emergent."
As increasing complexity, volatility, and uncertainty have become the norm in our work environment, the action of these three domains has become interconnected and interdependent and now requires every level of leader to be involved. Strategy today is a dynamic, fluid, ongoing process that needs constant development ("architecting") and alignment ("translating") by all levels of leaders.
Since strategy is now so transitory, change is the new work within organizations, and leading this constant organizational change is part of every leader's job. To be able to respond to the fluid strategy and the constantly changing work, people need to become more interconnected and work in collaborative ways. Leaders, then, need to be adaptable, nimble, and flexible, recognizing that the work to be done is less definable and more emergent.
Learning Tree and Duke Corporate Education have come together to create the Transformational Technical Leadership Certificate Program to help develop ready-now technical leaders who are prepared to play the new game. The certificate program comprises six courses that align with each of the domains, designed to build the leadership expertise, mindset, and tools required to be a transformational leader.
Strategy Focus:
Change Focus:
People Focus:
Learn more about the first course in the program and become the transformational technical leader your organization needs.
If you are interested in enterprise packages or purchasing a single Certificate Program bundle, please call 1-800-507-8987 (US Toll-Free).