2019-10-16
Microsoft is now updating Software Assurance benefits, which includes the retirement of Software Assurance Training Vouchers, or SATVs. Here's what you need to know.
What are SATVs?
Microsoft provides many benefits to their customers, one of which is Software Assurance benefits. This was originally designed to help customers increase productivity through support, services, and training. SATVs are part of Microsoft's Software Assurance program and act as an added benefit for organizations who purchase Microsoft licenses.

Want to learn more about what SATVs are?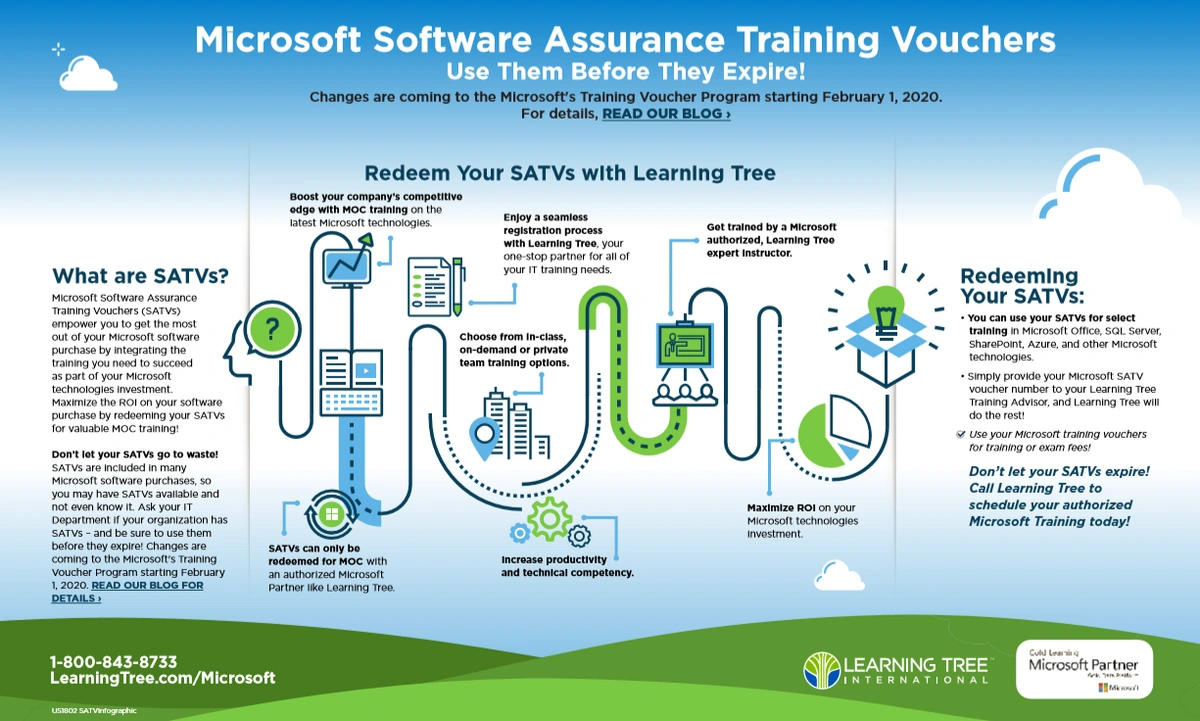 What is changing with SATVs?
Microsoft has made the decision to slowly phase SATVs out of the Software Assurance benefits program. This was based on customer and market feedback which showed the need for a streamlined learning experience.
When are the changes happening?
February 1, 2020: Azure courses are no longer valid for SATV training voucher redemption.
February 1, 2020: Training vouchers can no longer be converted to planning services days.
February 1, 2021: Customers will no longer accrue training voucher days.

New contracts after this date won't have any training vouchers assigned and existing contracts won't receive any additional training vouchers.

Current customers can continue to redeem accrued training vouchers until January 1, 2022.
January 1, 2022 is the absolute last day any customer can use the training vouchers.
What should I do to prepare for these SATV updates?
1. Check if your organization has SATVs.
Most companies don't even realize they have access to SATVs. If you're not sure, check with your Purchasing Department and ask for the Microsoft Volume Licensing Agreement. The agreement should name a Benefits Administrator who has access to your organization's SATV information through Microsoft Volume Licensing Service Center. If you can't find the Volume Licensing Agreement, you may have a Products and Services Agreement with Microsoft. This agreement names a Purchasing Account Administrator who has access to your benefits through Microsoft Business Center.

If you're unable to locate your agreements or can't find who the Administrator is, you should reach out to your Microsoft Rep for clarification.

Once you have an understanding of how many training days you're eligible for, you can work together with a Learning Tree Account Executive to establish a plan for your training goals and implement a path on how to get there--without impacting your budget.
2. Explore SATV-eligible training to maximize your benefits before they expire.
As a Microsoft Gold Certified Partner for Learning Solutions, Learning Tree offers a full suite of Microsoft Official Courseware (MOC) training options in today's most popular technologies, like Microsoft 365, SharePoint, SQL Server, Power BI, Dynamics 365, Windows, and more.

Are you working towards a Microsoft certification? Explore our Microsoft certifications roadmap to chart your course to certification success.

PRO TIP: Use SATVs for Private Team Training!

SATVs can be used to train your entire group--all in one place! They can even remote in if they need to. If you have any additional questions, please reach out to your Account Executive to assist. If you don't know who your Account Executive is, you can email, chat, or call our customer service who can find them for you!