Duration: 1 Hour

Office 365 is a range of subscription-based software and services from Microsoft. A clear understanding of these tools can help meet the challenges faced by individuals and organizations today.
Office 365 is easy to learn and use due to tight integration and a consistent interface between services. Products are actively improved on a monthly cycle. No need to wait three years for the next major release of Office. No need to pay for services you don't need. Office 365 is a range of tools from which you can select those that fill your business need.
But with a fast changing, wide ranging array of tools available how can you make the best use of Office 365?
Watch this webinar to find out:
How to ensure monthly changes in Office 365 don't unsettle employees and disrupt your business processes
How to access your documents and information from web, desktop and mobile devices
How to tailor Outlook to fit your work style

Certain default settings are counterproductive for effective time management
Customize the To Do list to keep on top of your priorities
Employ powerful tools to help manage overwhelming email

Should I use OneDrive or SharePoint for my documents?


Are you making the best use of these modern tools or are you still keeping documents on the C: drive or a network share?
What are the differences between the SharePoint Classic and Modern Experience?
When should I use a Team Site or a Communications Site?
What is a Hub site?

How you can access the documents and information you need with ease whilst away from your desk?


Mobile access, PowerApps and Flow provide an automated mobile solution

How to unify people, conversations and content.


Do you have information spread over email, chat, IM, documents, intranet, phone calls, video conferences etc?
Microsoft Teams provides a hub for teamwork. Within the Team, Channels separate the topics. With Artificial Intelligence, bots and third-party add-ins Microsoft Teams take collaboration to the next level.
Office 365 provides a rich and flexible range of tools to help you and your organization prepare for the business challenges of the future.
Are you making the best use of what you have?
Earn 1 CEU. Credits are self-reported to the industry certifying bodies. Check their respective websites for details/qualifications.
[Webinar ID# 1161]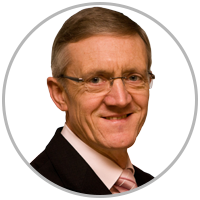 Martyn Baker
As Director of Waterfall Consulting Martyn has an active interest in making life easy for himself and others. He believes that software and systems must provide a benefit. Just because they are the latest offering and surrounded by hype doesn't in itself make them useful. A good understanding of how these tools can help us is key to smoothing out our workday. With a background in print and publishing Martyn has witnessed the transition from paper to digital and now collaboration is changing fast. He has been a Microsoft Partner for many years. The support from Microsoft has proven invaluable. Away from work even his love of photography has gone digital but the simple pleasure of walking in the hills with family and friends helps to keep him grounded.