The Cybersecurity Maturity Model Certification (CMMC), managed by the CMMC Accreditation Body (CMMC-AB), is a program through which an organization's cybersecurity program is measured by their initial and ongoing compliance with applicable cybersecurity practices as well as their integration of corresponding policies and plans into their overall business operations. By Fiscal Year 2026, all organizations providing products or services to the U.S. Department of Defense must obtain at least a Maturity Level 1 certification under this program.
In this on-demand webinar, Learning Tree (a CMMC Licensed Training Provider) and Logical Operations (a CMMC Licensed Content Provider) discuss what this new regulation means for any organization doing business with the U.S. DoD.
In this webinar, you will learn:
What is the Cybersecurity Maturity Model Certification (CMMC)?
Who is impacted by CMMC?
What are the 5 Levels of Compliance inside of CMMC?
What are the 17 domains analyzed for CMMC?
How can you get started preparing for CMMC Compliance today?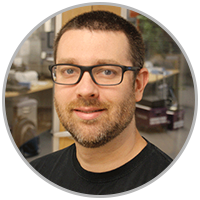 Presented by Jon O'Keefe
As the Technology Education Jedi at Logical Operations, Jon is responsible for the design, development, and delivery of LO's emerging technology courseware portfolio, which includes CMMC, Certified Dark Web Analyst, CISSP, etc. He has over 20 years of experience in IT and Education. He holds a Master's in Education Theory and Policy with an emphasis on Curriculum design. He is also a Master Modern Classroom Certified Trainer (MCCT) and Master Certified Virtual Educator (CVE) and has helped over 4,000 trainers prepare for the MCCT and CVE exams. He has a passion for storytelling and film and is always informed on the latest and greatest technologies. If you want to win at bar trivia, he's your go to guy.