Learning Tree International Recognized by (ISC)² as 2018 Growth Partner of the Year
}
Learning Tree International Recognized by (ISC)² as 2018 Growth Partner of the Year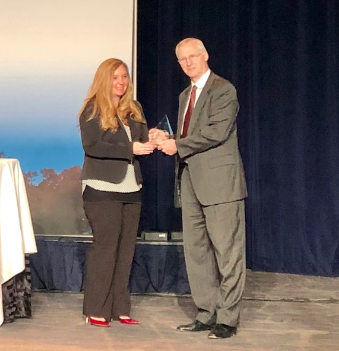 HERNDON, Va. — April 24, 2019 — Learning Tree International has been awarded the 2018 Growth Partner of the Year by (ISC)², the world's largest nonprofit membership association of certified cybersecurity professionals. The award acknowledges Learning Tree's excellence in preparing candidates to reach (ISC)² certification success, including conducting 70 training courses last year for more than 900 learners seeking to become (ISC)2 certified, as well as demonstrating growth in revenue, field engagement, and positive customer feedback.

"Learning Tree is honored to be the (ISC)² 2018 Growth Partner of the Year," said Richard A. Spires, Learning Tree CEO. "We value our partnership with (ISC)² and their holistic, pragmatic approach to security, and we're proud to be working with them to make a safer and more secure cyber world."
As an (ISC)² Preferred Official Training Provider, Learning Tree helps attendees attain (ISC)²'s most popular certifications, including the (ISC)² Certified Information Systems Security Professional (CISSP®), Certified Cloud Security Professional (CCSP), Healthcare Information Security and Privacy Practitioner (HCISPP), and more.

Browse (ISC)² Certification Training ›
About Learning Tree International
Learning Tree International is a trusted, global partner delivering mission-critical IT training and certifications, as well as the communication and critical thinking skills necessary to effectively deploy and deliver major IT initiatives. Over 2.5 million IT & business professionals around the world have enhanced their skills through Learning Tree's extensive library of proprietary and partner content. Transformational business solutions have evolved from working collaboratively with clients to address large-scale process improvement initiatives.
To learn more, call 1-888-THE-TREE (843-8733) or visit https://www.learningtree.com/
Media Contact:
Tricia Sacchetti
Vice President, Worldwide Marketing
Learning Tree International
+1 703 925 5552
Tricia_Sacchetti@LearningTree.com
Cautionary Statement Regarding Forward Looking Statements
The statements contained herein that are not historical facts are forward-looking statements based on management's current expectations and beliefs concerning future developments and their potential effects on Learning Tree. Such statements involve inherent risks and uncertainties, many of which are difficult to predict and are generally beyond the control of Learning Tree. There can be no assurance that future developments affecting Learning Tree will be the same as those anticipated. Learning Tree cautions readers that a number of factors could cause actual results to differ materially from those expressed in, or implied or projected by, such forward-looking statements. Learning Tree is not undertaking any obligation to update forward-looking statements contained herein to reflect future events, developments or changed circumstances.