Expanded End-to-End Cybersecurity Certification Training from Learning Tree to Meet Mission-Critical Initiatives
}
Expanded End-to-End Cybersecurity Certification Training from Learning Tree to Meet Mission-Critical Initiatives
Top Accredited Provider of Officially Licensed Content & Exam Vouchers, Learning Paths with Blended Learning Bundles & Instructor Coaching for Practical Application
HERNDON, VA. – October 26, 2018 – Learning Tree International, Inc. (OTCQX: LTRE) announced today expanded end-to-end cybersecurity certification training solutions to help organizations worldwide invest in a people-first cybersecurity culture. These defined learning paths feature officially licensed partner content, hands-on labs, practice exams and exam vouchers, are available as blended learning and unlimited access bundles, and include after-course instructor coaching to support learners to gain practical on-the-job skills.
"So far this year, U.S. employers alone have posted more than 103,000 job openings for cybersecurity engineers and analysts, a 30-percent increase over the same period in 2017," said Joe Padin, CompTIA Vice President for U.S. Federal and Education Certification.1 "CompTIA is committed to raising awareness about the critical importance of cybersecurity; to build competencies and skills among cybersecurity professionals around the world; and to attract new candidates into the cybersecurity workforce," Padin continued. "We're pleased to work with Learning Tree as an important strategic partner in this effort."
In support of Cybersecurity Awareness Month recognized worldwide, Learning Tree collaborated with industry-recognized organizations to reframe training as defined learning paths aimed at this talent deficit at all levels. "As a top National Accredited Training Center (ATC) in partnership with EC-Council, Learning Tree is greatly expanding their cybersecurity training portfolio in further closing the skills gap for many organizations," said Todd York, EC Council Partner Development Manager.
An entry-point into the security field: learn how to search for vulnerabilities in operating systems and reduce exposure to dangers in enterprise-wide and virtual private networks: System & Network Security Introduction ›
---
CompTIA® Career Pathways – Stackable Certification Bundles: a vendor-neutral pathway for IT professionals to achieve cybersecurity mastery; Stackable certifications demonstrate multiple certifications to validate the skills of various IT roles and show a deeper mastery, opening up more job opportunities. These stacked bundles offer unlimited on-demand content to support a continued learning experience.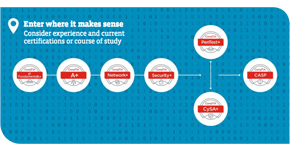 ---
ISACA's knowledge and experience-based credentials: CISA, CISM (Certified Information Security Manager), CGEIT Certification and CRISC Training. ISACA's four longest-standing certifications help individuals provide assurance, manage security, govern enterprise information and technology and manage risk—all essential aspects of keeping information assets sufficiently protected.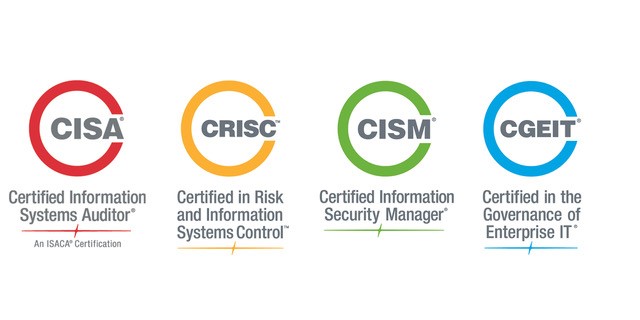 ---
ISC(2)® CISSP + EC Council® Certified CISO (C/CISO): two high-demand certifications paired together are a powerful combination to strengthen collaboration with the CISO and show the path for aspiring CISOs.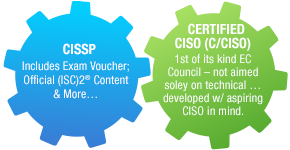 ---
Building a capable cybersecurity workforce is of utmost importance in maintaining a robust cybersecurity posture for your organization," said Richard A. Spires, Learning Tree's Chief Executive Officer. "Certifications are a critical element to a comprehensive workforce development program and through Learning Tree's partnership with these certifying organizations, we can provide the full range of training needed for a CISO's or IT Security Manager's organization."
About Learning Tree International, Inc.
Learning Tree International is a trusted, global partner delivering mission-critical IT training and certifications, as well as the communication and critical thinking skills necessary to effectively deploy and deliver major IT initiatives. Over 2.5 million IT & business professionals around the world have enhanced their skills through Learning Tree's extensive library of proprietary and partner content.
Today, Learning Tree offers an expanded training portfolio, including Agile, cyber security, cloud computing, program/project management, web development, operating systems, networking, leadership, and more. Attendees enjoy award-winning content that goes beyond the classroom with customized blended learning solutions featuring instructor-led, on-demand, and live, online training through Learning Tree AnyWare®, a modern technology platform that delivers an immersive, virtual learning experience.
We go beyond training with Workforce Optimization Solutions — a modern approach that improves the adoption of skills and accelerates the implementation of technical and business processes required to improve IT service delivery. These services include: needs assessments, skill gaps analyses, blended delivery, and acceleration workshops delivered by our expert instructors — working professionals with 15+ years of experience in the fields in which they teach.
To learn more, call 1-888-THE-TREE (843-8733) or visit LearningTree.com
Cautionary Statement Regarding Forward Looking Statements
The statements contained herein that are not historical facts are forward-looking statements based on management's current expectations and beliefs concerning future developments and their potential effects on Learning Tree. Such statements involve inherent risks and uncertainties, many of which are difficult to predict and are generally beyond the control of Learning Tree. There can be no assurance that future developments affecting Learning Tree will be the same as those anticipated. Learning Tree cautions readers that a number of important factors could cause actual results to differ materially from those expressed in, or implied or projected by, such forward-looking statements. Investors should not put undue reliance on these forward-looking statements, since they are based on key assumptions about future risks and uncertainties. Some of these risks and uncertainties that could affect Learning Tree and its business include, but are not limited to the following: our ability to continue as a going concern; our ability to obtain additional liquidity in amounts and on terms acceptable to the Company; our ability to reverse our trend of declining year over year revenues and negative cash flows from operations, and to maintain sufficient liquidity; our ability to successfully implement our new strategies including achieving our cost reduction goals; our ability to identify and execute upon strategic options for the Company; competition; international operations, including currency fluctuations; attracting and retaining qualified personnel; intellectual property, including having to defend potential infringement claims; implementation of partnerships with third party providers of courses and or course material; efficient delivery and scheduling of Learning Tree's courses; technology development and new technology introduction; risks associated with the timely development, introduction, and customer acceptance of our courses and other products; risks associated with a majority of our outstanding common stock being beneficially owned by a new majority stockholder that is a trust; our majority stockholder having significant influence over the composition of our Board of Directors; our majority stockholders being the largest unsecured creditor of the Company; the conversion of the amounts borrowed by the Company under the Credit Agreement potentially resulting in substantial dilution; risks associated with the Credit Agreement; risks associated with maintaining cyber security; changing economic and market conditions; and adverse weather conditions, strikes, acts of war or terrorism and other external events. Learning Tree is not undertaking any obligation to update forward-looking statements contained herein to reflect future events, developments or changed circumstances.
In order to help the reader assess the factors and risks in Learning Tree's business that could cause actual results to differ materially from those expressed in the forward looking statements, Learning Tree discusses in its 2017 Annual Report on Form 10-K ("Form 10-K"), those risks in Item 1A, "Risk Factors", as well as in its other filings with the SEC including our current Form 10-Q. Please read the Form 10-K, including the Risk Factors included therein, which is filed with the SEC and available at the SEC's Internet site (http://www.sec.gov).
1 State of The Cyber Workforce (NA Stats); State of the Cyber Workforce (EU)